What is Titlis? 
The Titlis is a high mountain and viewing point. The cable car to the Titlis departs from the town of Engelberg, about 45 minutes from Lucerne. The last section of the cable car features the revolving cable car 'Rotair', allowing you to enjoy the views all around.
Titlis ticket prices and reservations 
Titlis - 2023 standard prices (2024 prices will follow later)
Titlis prices with and without a rail pass
The highest prices apply if you don't have a rail pass. Many rail passes offer discounts, some even free traveling. Find a full overview here.
Prices for the Ice Flyer chairlift and the Glacier Park
A ride with the Ice Flyer chairlift is not included in a cable car ticket to Titlis by default. If you've purchased a cable car ticket without the Ice Flyer and still want to use the chairlift, you can get a separate Ice Flyer ticket.
Some tickets offered online do include the Ice Flyer.
An Ice Flyer ticket provides access to the Glacier Park and its activities.
Tours to Titlis
Below you'll find many independent and guided tours to Titlis. If you book a tour, tickets to Titlis are usually included. This doesn't necessarily apply to the Ice Flyer, so check the conditions if you want to make that chairlift ride.
Where to buy your tickets and tours
Tickets to the summit of the Titlis are available online, or from the ticket desk at the valley station in Engelberg.
Find tickets and tours for Titlis 
Mt. Titlis Ticket from Lucerne incl. Train to Engelberg
Mountains
The Titlis is the highlight in Central Switzerland and the only developed glacier in the area. Up here you can experience snow fun all year round on 10000ft altitude. The ticket includes the train travel from Luzern to Engelberg, the use of the Titlis cableway and gives access for Cliff …
Offered by Viator: www.viator.com
Easy, online, free cancellation in most cases
Lowest Price Guarantee: Viator will refund the difference if you find a better price.
Extra Support: if you buy here, MySwissAlps can also assist if you have questions about your order.
Mount Titlis: Admission Ticket
Mountains
Experience a magnificent trip to the impressive Mount Titlis glacier. Explore the only accessible glacier world of Central Switzerland and enjoy the spectacular panorama in a fascinating world of everlasting snow.
Offered by GetYourGuide: www.getyourguide.com
Easy, online, free cancellation in most cases
Best Price Matching: GetYourGuide will pay the difference if you find a lower price.
Extra Support: if you buy here, MySwissAlps can also assist if you have questions about your order.
Mount Titlis Admission Ticket
Mountains
Offered by Klook: www.klook.com
Best price guarantee: Klook will refund double the difference if you find a lower price.
Extra Support: if you book here, MySwissAlps can also assist if you have questions about your order.
Promotions 
Swiss travel packages deals
Various multi-day packages for guided and self-guided trips to Switzerland. The offerings change regularly. Packages including surrounding countries are available too.
Discounted Titlis access with your rail passes 
These rail passes allow discounted or even free traveling to Titlis. In some cases, the Ice Flyer is included too.
How to travel to Titlis: directions and map 
The Titlis can be reached by cable car from Engelberg: an attractive tourist town in Central Switzerland. Engelberg can be reached by car or by train.
How to travel to Engelberg
We prefer traveling to Engelberg by train from Lucerne. This very scenic ride takes about 45 minutes.
How to reach the Titlis valley station in Engelberg
It's a 10-minute signposted walk from the rail station to the Titlis valley station. You can also use free shuttle buses between the train station and the cable car valley station.
The cable car: Engelberg-Trübsee-Stand-Titlis
Take the gondola "TITLIS Xpress" from the valley station to Stand. It passes the mid-station Trübsee, but you can stay seated there.
In Stand, switch to a cable car to the top of the Titlis. This cable car is called "Rotair" and revolves during the ride for 360°-views. The entire ride to the top takes little more than 20 minutes.
How to reach Titlis by car
If you travel by car, you can park at the Engelberg valley station. Costs are CHF 5 to CHF 10 per day.
Cableway route to Titlis and Trübsee on a map
Maps are available to members only
Create a free account

Operation dates, schedules and timetable 
2023-2024 operation dates for Titlis, Trübsee and the Ice Flyer
Opening dates differ per section:
You can reach Trübsee all year.
The cable car to the top of the Titlis operates year-round, except for 6 to 17 November 2023.
The Ice Flyer operates from 8 May to 6 October 2023, from 21 October to 5 November 2023, and from 18 November 2023 to 5 May 2024.
Operation dates for the summer season of 2024 will follow later.
How to plan your Titlis excursion with the timetable
You can plan each segment of your Titlis trip in the Swiss timetable. These are the names to enter:
"Titlis" for the mountain station at 3032 m
"Engelberg" for the train station of Engelberg
"Engelberg (Talstation Titlis)" for the gondola valley station in Engelberg
"Trübsee" and "Stand" for both mid-stations
Recommended months for Titlis 
Titlis is accessible nearly all year round. We think early January to late February, early April to late October and late December are best for a visit. Specifics:
January-February is best for a winter visit. These are the top snow months, so you can have beautiful wintry views from the top. The ski pistes high up at Titlis and the snow park at mid-station Trübsee are accessible.
April-June is spring season. You can expect snow at the mountain ranges and green nature down in the valleys, which creates beautifully varied views.
October-early November is fall season. This increases the chances of fresh snow, and the trees in the valleys start showing their autumn colors.
July-September is perfect for a visit too. In warm years, however, there may be less snow at the top than usual and the snow activities in the Glacier Park can't be fully guaranteed.
Titlis weather forecast and info 
Clear weather at Titlis is best to enjoy the views. If there are clouds or drizzle, you can still get up. Sometimes you can even rise above clouds or fog that hang at lower altitudes. Check webcams showing the views from the top before you leave.
Services are only suspended in case of strong winds, snow storms or other extreme circumstances.
Dress in multiple thinner layers so that you can adapt to the different temperatures throughout the day. It can be very windy at the top. Take along gloves and sunglasses. Make sure you have appropriate winter gear if you want to engage in snow activities.
5-day weather forecast for Titlis
Weather reports are available to members only
Create a free account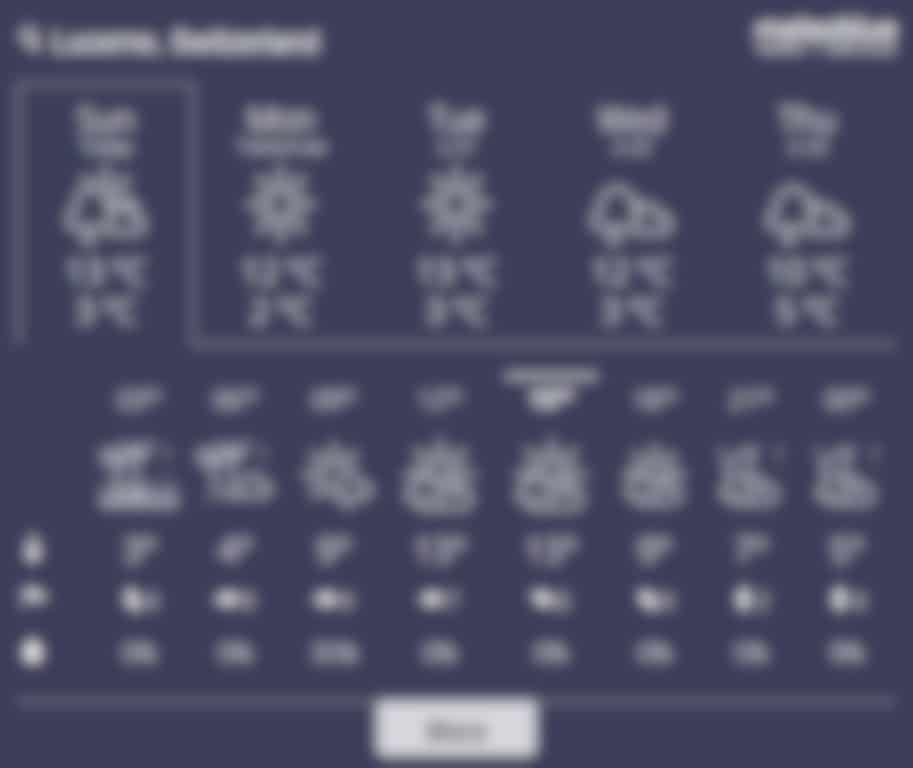 What to see and do at Titlis
Year-round activities at Titlis
There's an amazing view of a high-alpine world of rocks and snow.
You can take a walk into the Glacier Cave, a tunnel in the ice of the glacier.
The Titlis Cliff Walk is a spectacular suspension bridge of over 100 metres long.
There are shops and restaurants.
The Ice Flyer and Glacier Park (summer)
In summer, the 'Ice Flyer' chairlift allows you to 'fly' over the glacier and see it up close. The fare is not included in standard cable car tickets to the Titlis. The lift takes you to the Glacier Park, where you can play in the snow using snow tubes, sledges and more. This is the place to go to for nearly-guaranteed snow. There is often snow at other places close the top too, but not always as the climate is getting warmer.
What to see and to at Trübsee
Mid-station Trübsee is close the beautiful alpine lake 'Trübsee'. You'll find an adventure park in summer here, and a snow park in winter.
Summer activities at Trübsee
Several hiking trails start or end at the mid station of the cable car, Trübsee. You can walk to the Trübsee, instead of taking the gondolas, and combine this hike with a visit to the Titlis.
In the Trübsee Adventure park can you enjoy the zipline, trampoline or bag jump.
The small lake can be explored from a rowing boat.
There's an adventure playground with treasure hunt for children.
You can descend to the Titlis valley station in Engelberg with scooter bikes.
Winter activities at Trübsee
In winter Trübsee is the place to enjoy snowtubing, sledding and more snow activities. It takes on the role of the Glacier Park that's accessible in winter. The Ice Flyer at Titlis is operational in winter, but it leads to ski pistes instead of a snow park.
Titlis, Pilatus, Rigi or Stanserhorn: how to choose
There are several mountains near Lucerne. These are the pros of an excursion to Titlis:
The train ride from Lucerne to Engelberg is very scenic.
The Rotair cable car is a unique experience: you can watch 360°-views when traveling to the top.
In favorable weather circumstances, you can enjoy snow activities all year round, which is not the case at the other mountains.
How to combine Titlis with other excursions
Most travelers travel to Titlis from Lucerne. This makes for a half-day to full-day trip. We recommend not adding too many other activities. The ones below are suitable:
Explore Lucerne.
Make a short boat ride between Lucerne and the towns Stansstad or Hergiswil (both on the route between Lucerne and Engelberg).
Spend more time near Engelberg. Visit the monastery and cheese dairy, or explore the Brunni mountain area for example.
Titlis FAQ
How long does a visit to Titlis take?

An excursion to Titlis from Lucerne takes about half a day. This includes 2 hours to enjoy the views and activities at the top, plus the rides up and down from Engelberg. If you visit the Glacier Park and/or travel from destinations far away, such as Zurich or Interlaken, count on a full-day trip.

Does the Titlis always have snow?

Under normal circumstances, there's snow at Titlis all year round. Even during summer you can enjoy snow activities in the Glacier Park. But in exceptionally warm years the amount of snow can be less than expected. This can particularly occur in July, August and September. The Glacier Park may not be accessible in such cases. The Titlis website provides updates.

How to travel to Titlis from Zurich?

A single ride by public transport from Zurich to the top of the Titlis takes about 2h15. Take the train from Zurich to Lucerne. Then switch to the train to Engelberg and board the cable car. See further route descriptions here.

How to travel to Titlis from Interlaken?

A single ride by public transport from Interlaken Ost to the top of the Titlis takes about 3h20. Take the Luzern-Interlaken Express train to Lucerne. Then switch to the train to Engelberg and board the cable car. See detailed route descriptions here.

If you're based in Interlaken and looking for a great mountain trip, it's good to know that there are plenty of breathtaking mountain rides in Interlaken's immediate surroundings.

Should I worry about altitude sickness?

The Titlis station is located at an altitude of 3032 m. Anyone can suffer from (light) altitude sickness from about 2000 m. Usually, it helps to take things slow and sit down for a while. Special precautions apply to children under 2 years old, as well as people who are pregnant or in poor health: before visiting areas over 2500 m, you'd better consult your doctor. In most cases staying at such altitudes for just a few hours is no problem.
Other websites of interest
Schedules
Prices
Our recent blog articles about the area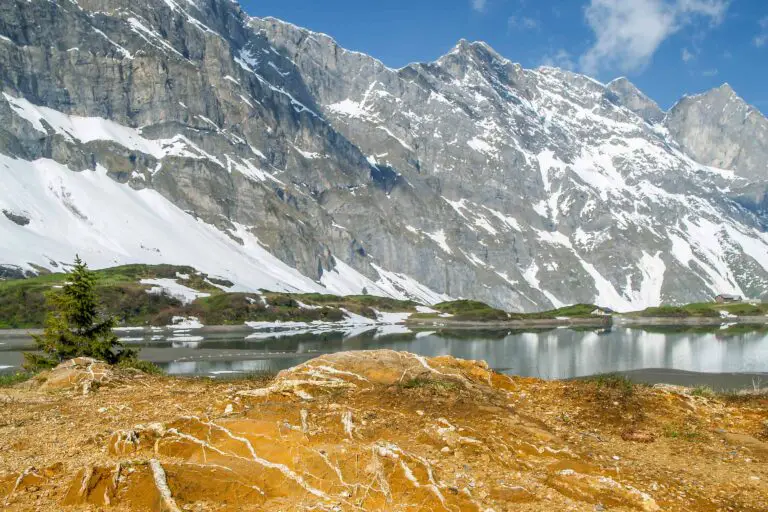 This is an easy, varying trail through the Engelberg Valley and along Lake Trüeb halfway up to Titlis.
More mountains near Lake Lucerne 
Our guide for the Lake Lucerne area 
The Lake Lucerne region in Central Switzerland is a wonderful holiday area close to Zurich. The large lake, the city …