Things to see and do in Lucerne 
Find your activities in and near Lucerne
What to see in the old town of Lucerne
The picturesque old town can easily be explored on foot. The Lucerne town walk we created includes all of the below highlights and more.
Scenic train rides from Lucerne
Train routes directly from town
The 4 best panoramic train routes directly from Lucerne are the GoldenPass, the Gotthard Panorama Express, the Voralpen Express and the Emmental route to Bern.
Details:
The Glacier Express and Bernina Express from Lucerne
It's possible to make a 1-day round trip from Lucerne that contains sections of the Glacier Express. Please find details in our Glacier Express guide.
Realistically, Lucerne is too far away for a day trip with the Bernina Express. It's best to move to a base town on the northern or southern parts of this line first, such as Chur, Tirano or Lugano.
Winter activities in Lucerne
Lucerne is very atmospheric in November and December. Christmas shopping can be done in the illuminated old town. A Christmas market is held, and you can easily travel to other towns and Christmas markets. Examples are Zurich, Bern and Basel.
Snow in town isn't common. You'll have to travel to reach winter sports resorts.
Lucerne travel info and city map 
The train station of Lucerne
The train station of Lucerne is called "Luzern", which is the local German name of the town. This is where all public transport, including boats, departs from. The historical town center is 4 minutes on foot from there.
How to get to Lucerne
Lucerne can best be reached by train. There are quick connections from major Swiss airports and cities. Examples of travel times:
You'll find all train connections to and from Lucerne in the Swiss timetable.
Traveling to Lucerne by car
Lucerne can be reached by car too. We don't recommend exploring the town by car though.
It's best to park your car and continue on foot. As in most Swiss cities, there are one-way streets, pedestrian zones and quite some local traffic in the Old Town of Lucerne, which make navigating by car challenging.
Where to park in Lucerne
Street parking is scarce in the center of town. You can best park in one of the parking garages. There are 3 garages at the train station and various others around town.
If you want to prevent driving into the town center you can also park at Luzern Messe (trade center), which is right next to the train stop Luzern Allmend/Messe. It takes a 5-minute train ride to reach the center of Lucerne.
Parking is paid, regardless of where you park. A few hotels may have parking included. Others offer paid parking or no parking at all. In that case, you'll need to park in one of the public garages.
How to explore the town center: on foot and by bus
The town center is easily reached by train and explored on foot. There are buses to get around as well.
The Visitor Card and rail passes suitable for Lucerne
You will receive a free Visitor Card when you check into your hotel or apartment. The card gets you discounts on local attractions and free traveling in and around town.
But if you own a rail pass, you'll get to travel in a much wider area, and discounts on attractions are mostly better.
The Tell-Pass is a good option if you'll be focusing on the Lake Lucerne area. Consider a Swiss Travel Pass or Swiss Half Fare Card if you plan to explore other Swiss regions too.
Map of Lucerne and its old town center
Maps are available to members only
Create a free account

The best time to visit Lucerne 
We've visited Lucerne in several seasons and think it's worth it all year.
Nature may not be prettiest in the shoulder months of March and November. But the town offers so many indoor options and connections to other Swiss cities that we don't feel this is a problem.
Lucerne from April to October
April to October are the best months for outdoor activities on the lake and in the mountains.
April is still a bit early: a few mountain routes, such as the one to Pilatus, don't operate yet. But the spring nature is lovely, and you can still enjoy boat trips, Rigi visits, and sightseeing in the city.
By mid- to late May, nearly all mountaintops are accessible. Cable cars and mountain trains in the Lucerne area keep operating until mid- to late October, if weather allows.
Lucerne from November to March
Late November and December are low season for outdoor attractions, but they're great to enjoy the holiday season in Lucerne and nearby cities.
January and February are the best months for snow trips into the mountains.
Mid- and late March again are low season, but the city still has plenty to offer to keep you busy.
Weather, climate and forecast for Lucerne 
Temperatures in Lucerne
Lucerne has a mild climate and isn't high in the mountains. This means that temperatures are relatively high: ranging from 4°C in 10°C winter on average, and from 20°C to 25°C in summer.
Rain in Lucerne
Most rain in Lucerne falls from May to August. The driest months are January and February.
On warm spring and summer days, showers in the (late) afternoon are much more common than continuous days of rain.
Fog and low clouds in autumn and winter
Fog and low clouds are common phenomena in the Swiss lowlands, especially in fall and winter.
This doesn't mean you can't visit mountaintops such as Pilatus or Titlis: skies may be clear at higher elevations, allowing you to "rise above the clouds". Check live webcams to see if a mountain visit is worth it.
5-day weather forecast for Lucerne
Weather reports are available to members only
Create a free account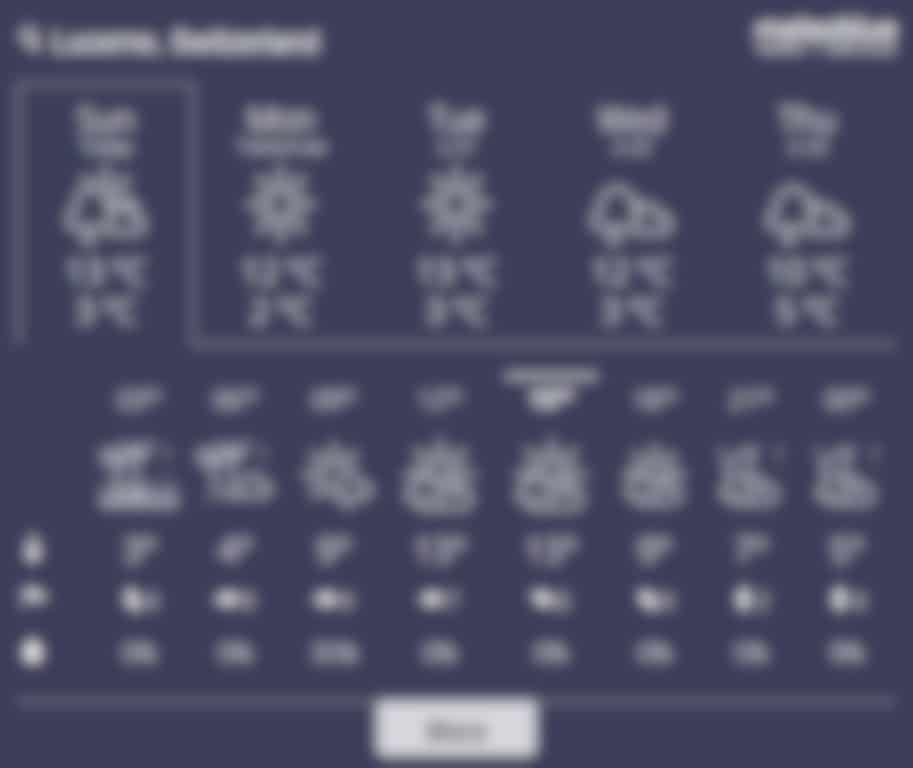 Accommodation in Lucerne 
Hotels versus holiday rentals
There's a wide range of hotels in downtown Lucerne. Most are within walking distance from the rail station, or only a short bus ride away.
There's less choice of holiday homes and apartments in the town of Lucerne. If you can't find a rental that suits your needs, look into other scenic villages on Lake Lucerne too. Our Lake Lucerne holiday home overview will give you lots of options.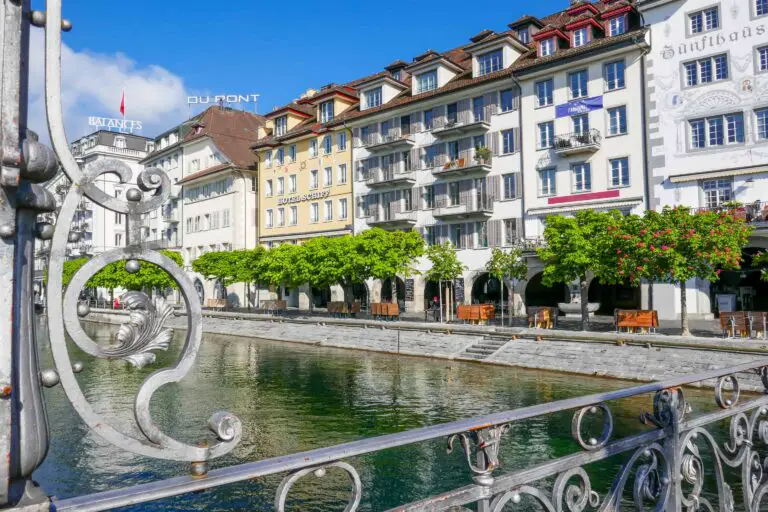 Use our Lucerne hotel finder, and our tips about where in the city to stay: in the old town near …
Lucerne's location and scenery
Lucerne is situated where the Swiss Alps begin. There are hills in the north and mountains in the south. The mountain Pilatus can be visited directly from town.
Lucerne lies along the banks of the large Lake Lucerne. Scenic boat trips can be made directly from the town center.
Pros and cons of Lucerne
The advantages of the city are:
Lucerne is a good place to start or end your visit to Switzerland, as it's easily accessible from Zurich and Zurich Airport.
We think that Lucerne is ideal for first-time visitors to Switzerland. It has a lot to offer: a picturesque and compact town center, museums, boat cruises, and a generous choice of hotels, shops and restaurants.
Many attractions can be reached easily from Lucerne. The Pilatus mountain is right next door. A short trip gets you to the Rigi railways, or the famous cable car up the Titlis.
This is a possible downside of Lucerne:
If you want to see the highest peaks of the Swiss Alps, Lucerne is not the best base. In that case you'd best consider regions further south, e.g. the Jungfrau Region or the Valais.
Lucerne FAQ
Where to stay: Lucerne or Interlaken?

Lucerne is the better option if you value a beautiful, historic town center and proximity to Zurich and Zurich Airport.

Interlaken in the Bernese Oberland is recommended if you want to be closer to the highest peaks of the Swiss Alps.

Why visit Lucerne?

Lucerne is worth a visit for its lively ancient old town. It has many pretty sites, such as the famous Chapel Bridge over the river Reuss.

In addition, the city is relatively close to Zurich and Zurich Airport.

Lucerne is also located on a large lake and close to several mountaintops that can be visited. There are plenty of indoor and outdoor activities.

Is Lucerne in the Swiss Alps?

Lucerne is not in the Swiss Alps, but it's close to the Central Alps of Switzerland. This is a beautiful mountainous area.

The highest peaks of Switzerland can be found further south: in the Bernese Oberland, the Valais and Graubünden for example.

In which canton is Lucerne?

Lucerne is located in the canton "Lucerne" in Central Switzerland. It's the canton's capital town. The original German name of the town and the canton is "Luzern".

Which airports are near Lucerne?

Zurich Airport is closest to Lucerne: at a 1h10-train ride. A train journey takes 1h30 from Basel EuroAirport, and 3h00 from Geneva Airport.
Other websites of interest
Itineraries that feature Lucerne 
Our related blog articles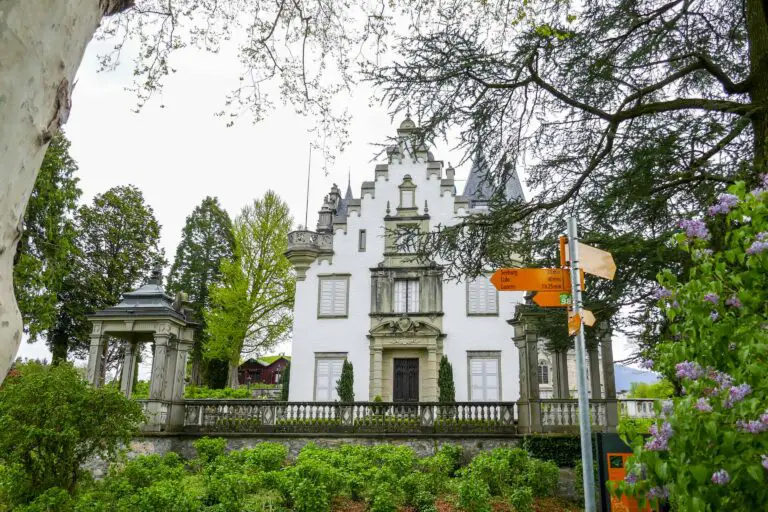 A relaxed stroll along Lake Lucerne and Meggenhorn Castle, ending in the vibrant town Lucerne.
More about Central Switzerland 
The Lake Lucerne region in Central Switzerland is a wonderful holiday area close to Zurich. The large lake, the city …