What to see and do in Interlaken 
Find your day trips and excursions in Interlaken
3 must-do's in Interlaken
We recommend not spending too much time in town, but rather focusing on the amazing region surrounding Interlaken. If time is limited, try to include at least:
a visit to Harder Kulm
a visit to Jungfraujoch or Schilthorn
a boat trip on Lake Thun or Lake Brienz
Panoramic train rides from Interlaken
The GoldenPass route to Lucerne and/or Montreux
Interlaken is directly on the GoldenPass train route, which stretches from Lucerne in the north to Montreux on Lake Geneva in the south-west. It's a great day trip to ride sections of this route.
A day trip to Zermatt with the Lötschberg mountain train
Zermatt is in southern Switzerland, on the other side of the Alps. But it's doable to make a day trip to Zermatt from Interlaken, if you leave early.
We feel that the train trip to Zermatt is a scenic attraction in itself! You can use either the Lötschberg Mountain Railway (3h20 from Interlaken) or the quicker Lötschberg Base Tunnel connection (2h15).
How to make the Glacier Express ride from Interlaken?
You can make a 1-day round trip from Interlaken which contains the Brig-Chur section of the Glacier Express. Doing the full route is not possible in one day. Find details here.
How to make the Bernina Express ride from Interlaken?
It's not realistic to make a trip by Bernina Express from Interlaken: the train route is too far away. We recommend first moving to another base town, such Zurich, Lucerne, Lugano, Chur, or St. Moritz.
Bad-weather activities
This is what you can do if it rains in Interlaken:
Go up to the Heimwehfluh in Interlaken (great for kids!).
Visit the JungfrauPark in Interlaken (fun for children too).
Visit the national capital Bern.
Visit the town of Thun.
Visit the town of Lucerne.
Participate in the Schuh Chocolate Show.
Explore the St. Beatus Caves near Beatenberg.
Go to the Trümmelbach Falls near Lauterbrunnen (they're in caves).
Winter activities in Interlaken
Interlaken is at a relatively low altitude. Snow in the village isn't likely. But you can use Interlaken as a base to enjoy snow activities in the ski areas of the Jungfrau Region.
Examples are the areas near Mürren, Wengen and Grindelwald. The ski slopes of Meiringen-Hasliberg and Beatenberg are close by as well.
In November and December, Interlaken can serve as a base town to visit Christmas markets and make beautiful train journeys.
Our travel info and town map 
How to travel to and in Interlaken: quick overview
Interlaken can be reached by train and by car. The town center is compact and can easily be explored on foot, but there are buses too. The rail stations in Interlaken are the starting point for all of your day trips.
How to get to Interlaken by train
There are direct trains to Interlaken from several major towns around Switzerland. You can quickly reach Interlaken from the airports of Zurich, Basel and Geneva too. Examples of travel times:
All connections can be found in the timetable.
How to get to Interlaken by car
Interlaken can be reached by car as well. It's a 2-hour drive from Zurich or Basel and a 2h40-journey from Geneva.
In many cases, you'll have to cross mountain passes before you reach Interlaken. Some are closed in winter, which means you have to find a detour. Sometimes you can use a car train.
The main car routes to Interlaken from the south and east are as follows:
Coming from Zurich or Lucerne, you'll cross the Brünig Pass. In our opinion a relatively easy pass. It's open year-long, if weather allows.
The Lötschberg car train is the obvious option if you travel from Zermatt or Brig in the Valais.
The Grimsel Pass has to be crossed if you travel from the Upper Rhone Valley in the Valais.
You'll drive the Gotthard Pass and the Susten Pass if you're coming from Andermatt. This is the route you'll take from the Ticino for example. You can avoid the Susten Pass by traveling via southern Lake Lucerne instead. Take the road to Altdorf and Hergiswil in that case, then continue toward the Brünig Pass.
The rail stations Interlaken Ost and West
The main shopping street connects the rail station Interlaken West to the rail station Interlaken Ost. They are 20 minutes apart on foot.
Interlaken Ost is the main station, but if your accommodation is within walking distance of either station, you'll have quick and easy access to all modes of transport.
There are buses to all villages around Interlaken, and those buses also connect the Interlaken Ost and West stations. Of course, there are trains between Interlaken Ost and West as well.
It's easy to find your way in Interlaken
Although the town center of Interlaken feels like a busy city, it is actually quite small. Basically, the town center is situated around two rail stations.
If you leave station Interlaken West and turn left into the Bahnhofstrasse, you will enter the main shopping street. Just keep on following that street, which is called Höheweg a bit further on, and you will reach the Interlaken Ost station in about 20 minutes on foot. This main street and a few of its side streets are the town center of Interlaken.
Trips to activities and sightseeing
The local trains take you into the mountains, and to attractions like the Jungfraujoch and the Schilthorn.
Boats to Lake Brienz depart near the Interlaken Ost station. Boats to Lake Thun depart from Interlaken West.
Free local traveling for hotel guests
Hotels will provide a free guest card to their guests, which allows free traveling by all modes of transport in the immediate surroundings of the town.
Rail passes for your stay in Interlaken
The guest card only applies to a small area. A rail pass is the best way to cover transportation into the mountains and towns farther away. 
The ones to look into for Interlaken are:
The Berner Oberland Pass. You'll get great value for your money with this pass if you want to travel across the Bernese Oberland.
The Jungfrau Travel Pass. This one's suitable if you'll be focusing on the Jungfrau Region south of Interlaken.
The Swiss Travel Pass or Swiss Half Fare Card. These options are recommended if you value the freedom to travel in all directions from Interlaken. They're also good alternatives if you travel in seasons in which the regional passes aren't available.
We gladly help you choose in our rail pass comparison guide.
The town of Interlaken on a map
Maps are available to members only
Create a free account
Travel guides for the Interlaken area 
There are several train routes between Zurich and Interlaken. Learn all about the quick option via Bern and Thun, and …
The best time to visit Interlaken 
The best months to visit Interlaken are early January to late February and early April to late October.
Interlaken in winter
January and February
January and February are the best months for winter activities in the Jungfrau Region south of Interlaken. Snow in the town itself does occur, but it's not very common.
November, December and March
November, December and March are low season. They're at the start and end of winter season. Cable cars and mountain trains can be closed for maintenance. They often start running by end-December, and operate until mid-March or April. This sometimes depends on weather conditions.
Depending on the amount of snow, ski areas near Wengen, Grindelwald and other mountain villages may or may not be open. This depends on the amount of snow.
Hiking trails in the mountains are muddy.
Interlaken from April to October
This is what to expect in Interlaken in spring, summer and fall:
April, May and June
April and May are still low season for cable cars and mountain trains in the Jungfrau Region. But quite a few mountains can be reached year-long. Boats at Lake Brienz start operating by mid-April, boats at Lake Thun will switch to a more frequent schedule. This is one of our favorite times of the year for a visit. That's because Nature is at its best: the fresh green spring meadows and forests form a beautiful contrast with the snowy mountain tops. It's not the best time for high-altitude hiking.
In June, nearly all mountain tops in the Interlaken area are accessible. It's usually less crowded and less warm than in August and July.
August, July and September
August and July are high season. Many tourists, as well as the Swiss themselves, visit the Bernese Alps for hiking, mountain biking and other outdoor activities.
September is quieter than August and July. The weather is often still warm and sunny.
If you plan mountain hikes, these are the best months.
October
Most mountain transport in the Interlaken area operates until mid- to late-October. 
Autumn sets in. The forests turn into beautiful shades of red and yellow. Snow can start to fall in the mountains, which means that high-altitude hiking trails may no longer be accessible.
Weather in Interlaken 
What are the temperatures in Interlaken?
In winter, expect day temperatures a few degrees above freezing point in the town. It will be colder up in the mountains.
Day temperatures during the summer range from 18 °C to 25 °C. It can get hotter during a heatwave.
When does it rain in Interlaken?
Most precipitation in Interlaken occurs in May, June, July and August. Showers are more common than days of endless rain.
Does it snow in Interlaken?
It can snow in Interlaken, especially during the coldest winter months: January and February.
Snow in the mountain villages of the Jungfrau Region, which are at higher elevations, is much more common though.
Is Interlaken sunny?
Interlaken is on a plain between two lakes. Clouds tend to build over the mountain peaks first, especially in summer.
This is why Interlaken usually stays sunny for a longer time than mountain villages such as Wengen.
Is Interlaken cloudy and foggy in autumn?
Fog and low clouds can occur in fall. This can make Interlaken and the mountain villages south of it look grey and dull to our taste. But sometimes, the sky is brilliantly clear at higher altitudes.
So it's worth it to check mountain webcams: you may have still an amazing trip to Schynige Platte, First, Männlichen or another mountain in the Jungfrau Region.
5-day weather forecast for Interlaken
Weather reports are available to members only
Create a free account
Hotels and apartments in Interlaken 
Hotels
Interlaken offers plenty of accommodation:
There are many hotels: close to the stations, at quiet spots in the suburbs, luxury hotels across from the Höhematte park, and everything in between.
Rental apartments are widely available as well. Most are in quite modern buildings. Traditional Swiss rental chalets are hard to find in the town center. If that's what you prefer, consider basing yourself in the outskirts of Interlaken or in nearby villages. Check our Jungfrau Region accommodation tips.
There are several very comfortable campsites in Unterseen, directly west of Interlaken: Lazy Rancho 4, Alpenblick and Manor Farm.
Interlaken hotel guide
Use our Interlaken hotel finder. Or check our insider tips, where we tell you the best hotels for your preferences: …
Location and scenery
Interlaken is situated in the plains of the valley, not in the mountains. It is surrounded by the Bernese Alps though. The larger holiday region is called the Bernese Oberland.
Interlaken is located on the edge of 3 smaller holiday regions within the Bernese Oberland:
the Jungfrau Region south of Interlaken
Lake Thun west of Interlaken
Lake Brienz east of Interlaken
Directly north of Interlaken is a comparatively low mountain range. It borders on the north-eastern part of Lake Thun and on the entire northern banks of Lake Brienz. Mountain tops such as the Niederhorn, Harder Kulm and Brienzer Rothorn are located at this ridge.
Pros and cons of Interlaken
What the town looks like
We think that Interlaken isn't the prettiest town in the Bernese Oberland. It's a fine-looking tourist center, without a lot of attractions of its own. There's a mix of modern and traditional buildings.
Quieter areas with chalets can be found in nearby districts and smaller villages, such as Unterseen, Bönigen, Ringgenberg and Wilderswil.
Interlaken's central location
The main advantage of Interlaken is its excellent location: with its two rail stations, it serves as a hub for a large region. All nearby attractions can easily be reached from here, and a day trip to quite some other parts of Switzerland is possible too.
If you want to see and do a lot during your stay, you can save traveling time by basing yourself in Interlaken, rather than a more isolated village in the mountains, such as Mürren, Wengen, Lauterbrunnen or Grindelwald.
Many facilities and entertainment
Interlaken is a lively town with many shops and a wide selection of restaurants and hotels. If you are traveling with teenagers that seek some fun, you're better off in Interlaken than in a smaller mountain village with fewer facilities. The same holds true if you like to do some activities in the evenings.
Less cloudy than in the mountains
Interlaken's location in the plains of the valley and in between the lakes results in better chances of good weather. In our experience, the sky often clears up well before it does so in the mountains. This is no guarantee of course.
Interlaken FAQ
How many days to spend in Interlaken?

You need at least 3 days in Interlaken to explore the region a bit. A 3-day stay allows you to do a few activities in the mountains of the Jungfrau Region and on the Lakes of Brienz and Thun.

There's a lot to see and do in the area, and you can easily reach other Swiss towns from Interlaken. This means you can spend weeks in Interlaken without getting bored.

Why is Interlaken famous?

Interlaken in Switzerland is famous because of its great location. It's right within 3 attractive holiday regions: Lake Thun, Lake Brienz and the Jungfrau Region.

The Jungfrau Region is one of Switzerland's prettiest mountain areas and home to the mountains Jungfraujoch and Schilthorn.

Other Swiss towns such as Thun, Bern and Lucerne can be easily reached from Interlaken too.

Where is Interlaken in Switzerland?

Interlaken is located just north of the Swiss Alps, in the middle of Switzerland. It's not in, but very close to the mountains. You can reach Interlaken in a 2-hour train ride from Zurich or Basel.

The town is located in the Swiss canton of Bern and in the holiday region called the Bernese Oberland.

How to fly to Interlaken?

The two airports nearest to Interlaken are Zurich Airport and Basel EuroAirport. From both airports, you can reach Interlaken by public transport in just over 2 hours.

Can I see the Jungfrau from Interlaken?

Yes, you can see the mountain Jungfrau from several locations in Interlaken. The best vantage point is the park "Höhematte". This is located on the main street between the stations Interlaken Ost and Interlaken West.

What does the name "Interlaken" mean?

The definition of the name "Interlaken" is "between the lakes". Interlaken is located between Lake Thun and Lake Brienz.
Other websites of interest
Itineraries including Interlaken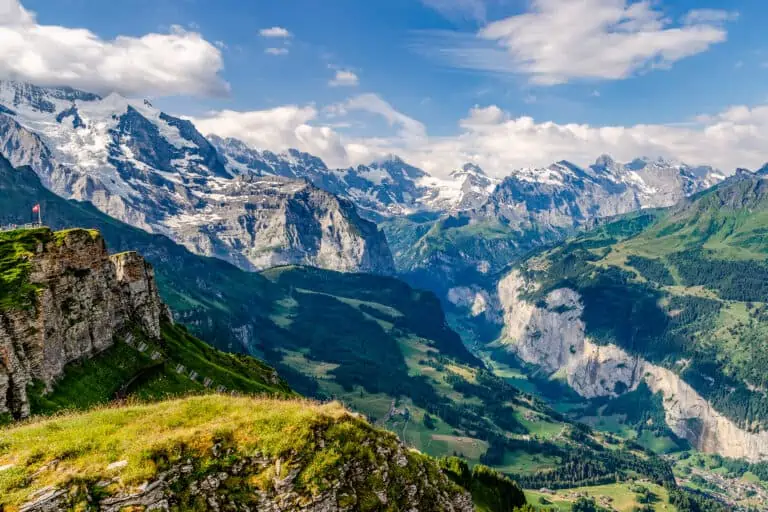 This extremely varied trip includes the famous Jungfrau, cogwheel train rides, cable cars, the Rhine Falls, Zurich and more: the …
Enjoy a week of scenic rail traveling all across the Swiss Alps, including famous panoramic trains. A must-do for train …
Our related blog articles 
Walk along Lake Brienz, starting at the impressive Giessbach Falls and ending in the charming village Iseltwald.
More about the Bernese Oberland