What to see and do near Lauterbrunnen 
Find excursions near Lauterbrunnen
The 3 must-do's in Lauterbrunnen
If your time in Lauterbrunnen is limited, we suggest you do at least these 3 things:
Visit the Jungfraujoch or Schilthorn - or even both! They're the most famous mountaintops in the Bernese Oberland, and for good reason: the views and the journeys to the top are breathtaking.
Make an easy walk with great views. Lauterbrunnen to Stechelberg is a beautiful path in the valley. Grütschalp to Mürren or Männlichen to Kleine Scheidegg are great trails higher up.
Watch the Staubbach Fall in the village.
Winter activities in Lauterbrunnen
Lauterbrunnen is on the valley floor at about 800 m. This means that snow in town is not guaranteed.
But you can easily access these nearby ski areas for all sorts of snow fun:
Mürren (25 minutes by cable car and train)
Wengen (11 minutes by train)
Grindelwald (37 minutes by train via Zweilütschinen, or 1h40 by cogwheel trains via Kleine Scheidegg)
Bad-weather activities
Staying in Lauterbrunnen means you depend on the weather, as nearly all activities are outdoors. Some ideas for rainy days:
Go shopping in Interlaken, or consider one of the other bad-weather options near Interlaken. Find tips here.
Visit the national capital Bern.
Visit the town of Thun.
Go to the nearby Trümmelbach Falls: they're in caves, so certainly an option in rainy weather.
Lauterbrunnen travel tips and map 
Traveling to and in Lauterbrunnen: quick overview
Lauterbrunnen can be reached by train and by car. The area can be explored by train, cableway, and on foot. Most of the region is car-free.
How to reach Lauterbrunnen
Lauterbrunnen can be reached by train and by car. It takes 20 minutes by train to get there from Interlaken.
Note that the same train also heads for Grindelwald. It's split into two separate sections at the rail station of Zweilütschinen. Information boards on the train and at the platforms indicate where you have to be seated to reach Lauterbrunnen (this is mostly sector A of the train and platform).
There is a paid parking garage next to the train station. Most hotels have parking lots for their guests too. The garage is mainly used by people going up to car-free Wengen or Mürren.
Come by train if you can. Even though there's a road to Lauterbrunnen, most of the area south of the village is car-free. You can plan your trip with the aid of the timetable.
How to get around in the Lauterbrunnen Valley
Public transport gets you to all spots in the Jungfrau Region:
You can reach Interlaken, Grindelwald and Stechelberg by car. The rest of the area is car-free.
Travel discounts with your Guest Card
The hotels in Lauterbrunnen provide a free Guest Card when you check in. The card provides various discounts on local attractions and cableways.
Rail passes for your stay in Lauterbrunnen
If you own a rail pass, you will usually get a better discount than those provided by the Guest Card. We advise you to check these passes:
The Berner Oberland Pass. We recommend this option if you want to explore the Jungfrau Region, but other areas of the Bernese Oberland too.
The Jungfrau Travel Pass. This one's suitable if you're sure you'll focus on the Jungfrau Region south of Lauterbrunnen only.
The Swiss Travel Pass or Swiss Half Fare Card. These are often best if your itinerary includes other parts of Switzerland too.
Use our free tools to determine which pass is best for your plans.
Location of Lauterbrunnen on a map of Switzerland
Maps are available to members only
Create a free account
Travel guides for Lauterbrunnen 
All the details you should know about the two ways to reach Mürren from Lauterbrunnen: by cable car and train …
Getting from Lauterbrunnen to Wengen is easy and very scenic. We explain all about the 12-minute trip by cogwheel train.
The best time to visit Lauterbrunnen 
The best months to go to Lauterbrunnen early January to late February and early April to late October. 
Lauterbrunnen in spring: April, May and June
April is a beautiful month nature-wise. The meadows of the Lauterbrunnen Valley will show fresh green grass and spring flowers, and you can still enjoy snow on the mountaintops. Not all mountains are accessible yet, and it's generally too early to hike in the mountains.
May is similar to April. A few more cable cars start to operate, for example the ones to Männlichen and Schilthorn.
By June, weather in the Lauterbrunnen Valley can already be summer-like. Pretty much all mountaintops can be visited now. The highest hiking trails may still be snow-covered.
Lauterbrunnen in summer: July, August and early September
July and August are high season for tourists. This means that popular activities, such as the Jungfraujoch and Schilthorn, can be crowded. You can leave early in the day or arrange for a guaranteed seat in advance though.
Things will get a bit quieter in September.
These are the best months for mountain biking and alpine hikes.
Lauterbrunnen in autumn: mid-September and October
We love to be in Lauterbrunnen during fall: this is when you can enjoy the spectacular scenery in peace and quiet. The trees in the valley start coloring. Most mountain transport in the Jungfrau Region operates until mid- or late-October.
Lauterbrunnen in winter: January and February
January and February are best for a winter stay in Lauterbrunnen. Don't expect snow in the village. Although this can happen, you'll often have to travel up to ski areas first.
Weather in Lauterbrunnen 
What's weather like in Lauterbrunnen?
Winter temperatures are pretty mild in Lauterbrunnen. During daytime, count on a temperature range of 5°C to 10°C. It can freeze during the night. Snow in the village may fall, but this is certainly no guarantee for Lauterbrunnen.
The warmest months are July and August, with average temperatures in the village ranging from 19°C to 23°C. Heatwaves with higher temperatures do occur.
The rainiest months in Lauterbrunnen are May, June, July and August. During warm summer days, showers typically occur in the (late) afternoon, while the mornings are sunny and clear.
5-day forecast for Lauterbrunnen
Weather reports are available to members only
Create a free account
Accommodation in Lauterbrunnen 
Lauterbrunnen offers several hotels, from budget to 3-star options. They're nearly all within walking distance of the rail station.
In addition, there are holiday homes and the well-rated "Jungfrau" campsite with views of the Staubbach Fall.
If you're debating between Lauterbrunnen and other towns, check our Jungfrau Region accommodation tips.
Lauterbrunnen hotel overview
Find mid-range and budget hotels in the village of Lauterbrunnen. Most are within walking distance from the rail station, and …
Lauterbrunnen's location and scenery
Strategic location between Interlaken and mountain villages
Lauterbrunnen is a small village in the Lauterbrunnen Valley. It's ideally situated for excursions throughout the Jungfrau Region. The Jungfrau Region is part of the larger holiday region of the Bernese Oberland.
The village is situated between the mountain villages Mürren and Wengen, which are the obvious areas for day trips. It's only a 20-minute train ride to Interlaken.
The beautiful Lauterbrunnen Valley
The Lauterbrunnen Valley is famous for its 72 waterfalls. There are smaller and larger ones. You'll have to look hard to find all of them, but some are impossible to miss, such as the famous Staubbach Fall just outside the village. Some are within the mountains, for example the Trümmelbach Falls. The river "Weisse Lütschine" crosses the entire valley from south to north.
Huge rock walls rise up hundreds of meters from the valley floor, particularly on the west side of the village. This impresses us time and time again as soon as we arrive in the village. On the east side, you'll find forestry slopes going up to Wengen, and again rock walls.
You can see quite some peaks, but not as many as from Mürren, Wengen or Grindelwald: these towns are at higher elevation and offer wider views.
Pros and cons of Lauterbrunnen
A small village
Lauterbrunnen is small, but offers everything you need to enjoy your holidays: several hotels and restaurants, a campsite, and a supermarket.
Central location
Perhaps Lauterbrunnen's biggest advantage is its central location on the valley floor. If you want to explore the Jungfrau Region, traveling from Lauterbrunnen is convenient as you can quickly reach Interlaken, Mürren and Wengen.
Busy and touristy in high season
Unlike Mürren and Wengen, Lauterbrunnen isn't car-free. It is the transit town for people on their way to Mürren and Wengen. There can be quite some traffic on the main road in high season.
In addition, Lauterbrunnen has become famous for its beautiful waterfall. Many tourists want to see it and take pictures. This results in high numbers of visitors in what's only a small village, especially from June to September. Shops, parking places, the main street, and photo stops near the waterfall can get pretty crowded.
Between high rock walls
Some people feel somewhat "locked in" in Lauterbrunnen because of the narrow valley and the rock walls on both sides of the village.
Unlike the villages in the mountains, Lauterbrunnen can be shady for quite some time each day, because the sun is hidden behind the mountains. This happens particularly in winter, when daylight is already short.
Lauterbrunnen FAQ
Is Lauterbrunnen worth visiting?

Yes, Lauterbrunnen is situated in the spectacular Lauterbrunnen Valley. If you value natural beauty and lots of waterfalls, Lauterbrunnen is the place to be. It's also located strategically: between Interlaken and the mountain villages of the Jungfrau Region.

How many days to spend in Lauterbrunnen?

To get a good impression of the Lauterbrunnen Valley, plan at least a 2- or 3-day stay in the village. This allows you to make a few hikes and mountain excursions, and to enjoy the views from different angles.

Is Lauterbrunnen car-free?

Where to stay: Lauterbrunnen, Wengen, Mürren, Grindelwald or Interlaken?

What's the closest airport to Lauterbrunnen?

Zurich Airport is nearest to Lauterbrunnen. You'll reach the village in a 2h40-train ride from the airport. A train journey from Basel EuroAirport takes 2h50, from Geneva Airport 3h50.
Other websites of interest
Itineraries including Lauterbrunnen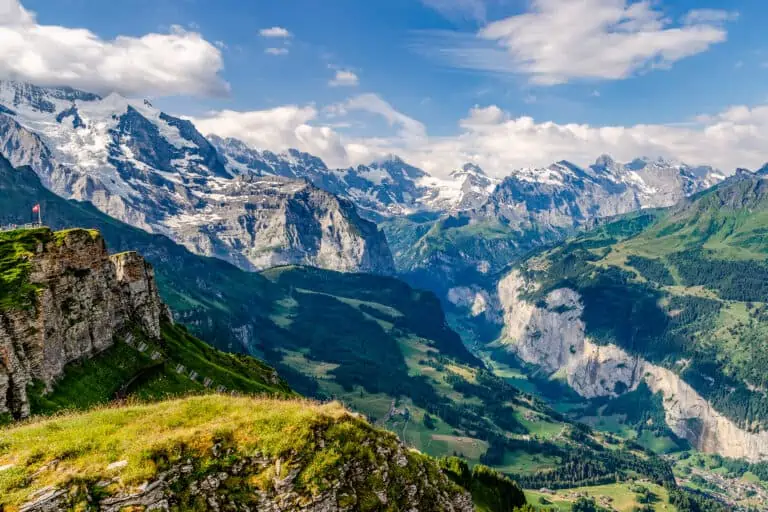 This extremely varied trip includes the famous Jungfrau, cogwheel train rides, cable cars, the Rhine Falls, Zurich and more: the …
Our blog posts about Lauterbrunnen 
About the Jungfrau Region