What to do and see in Mürren 
Find excursions and day trips in Mürren
What not to miss in Mürren
We think you should try these 3 activities if you're spending a couple of days in Mürren:
Visit the Schilthorn.
Make the panoramic walk from Grütschalp from Mürren.
Ride to Wengen, Kleine Scheidegg and possibly Jungfraujoch on the opposite side of the Lauterbrunnen Valley.
Winter activities
Directly from Mürren, you can start hiking on winter trails. You'll also have easy access to a large winter sports area on the slopes of the Schilthorn. There are many options for skiing, snowboarding and sledding.
The ski areas of Wengen-Männlichen, on the other side of the valley, can easily be reached too. And you can travel to Grindelwald, where two more ski areas are available.
In total, the Jungfrau Region offers more than 250 km of pistes.
Learn more about winter and snow activities here.
Bad-weather activities
Staying in Mürren means you are dependent on the weather, as nearly all activities are outdoors. Some ideas for rainy days:
Go shopping in Interlaken, or enjoy one of the other bad-weather options there. Check our Interlaken guide for tips.
Make a day trip to the national capital Bern.
Visit the town of Thun.
Visit the spectacular Trümmelbach Falls down in the Lauterbrunnen Valley (they're in caves).
For the adventurous: paragliding and the via ferrata
You can enjoy tandem paragliding flights from Mürren all year.
In summer, the via ferrata route from Mürren to the nearby village Gimmelwald attracts tourists. This is a 3-hour mountain climbing route along cables and ladders attached to the rock walls. Make sure you have appropriate gear, and book a tour with a mountain guide if you're not experienced.
How to travel to and in Mürren, plus map 
How to reach Mürren
Mürren can only be reached via Lauterbrunnen down in the valley. From Lauterbrunnen, there are two routes by public transport: one via Gimmelwald and Stechelberg, and one via Grütschalp. We explain them in detail in our Lauterbrunnen-Mürren travel guide.
How long it takes to reach Mürren
A journey by public transport to Mürren, via the quicker Grütschalp route, takes:
Use the timetable to plan your journey to or from Mürren.
What Mürren is built like
Mürren is stretched out from north to south. The center consists of the main street connecting the train station in the north to the cable car station in the south.
Side streets on the slopes below and above the town complement the village.
How to get around on foot
Mürren is small and you can easily get by on foot. A walk along the main street between both stations takes just 15 minutes.
If you'll be traveling with lots of luggage, your hotel can usually pick you up from the train or cable car station.
How to travel from Mürren
From Mürren, you can take a cable car up to the Schilthorn. There's also a funicular to Allmendhubel starting from "Mürren (Allmendhubelbahn)". This is a wonderful place to admire the mountains Eiger, Mönch and Jungfrau, and to go hiking.
You can also take the train or cableway down to Lauterbrunnen or Stechelberg. Lauterbrunnen provides train connections to Wengen and to Interlaken, and from there to the rest of Switzerland.
In winter, ski lifts make sure you can reach the many pistes in the Jungfrau Region.
Discounted local trips with the Guest Card
The hotels in Mürren provide a free Guest Card when you check in. The card provides several discounts on local attractions and cableways.
Rail passes for your stay in Mürren
If you own a rail pass, you will usually get a better discount than those provided by the Guest Card. We advise to look into these passes if you stay in Mürren:
The Berner Oberland Pass. You'll get great value for your money with this pass if you want to explore the surroundings of Mürren, but other areas of the Bernese Oberland too.
The Jungfrau Travel Pass. This one's suitable if you're sure you'll focus on the Jungfrau Region only.
The Swiss Travel Pass or Swiss Half Fare Card. These are usually best if you'll also be making journeys in other parts of Switzerland.
Use our tools to determine which pass is best for your plans.
Switzerland map with the town of Mürren
Maps are available to members only
Create a free account
Travel guides for Mürren 
All the details you should know about the two ways to reach Mürren from Lauterbrunnen: by cable car and train …
Mürren in winter, spring, summer and fall 
What's the best time to visit Mürren?
The best months to visit Mürren are early January to late February and early April to late October.
Mürren in April and May
April and May are perfect for a trip to Mürren if you like peace and quiet. As they're in between the winter and summer seasons, you won't encounter many other tourists.
When we walked the main street during our early-May visit to Mürren, we were practically the only ones there: a great experience, as we could entirely focus on the mountain views and the pretty chalets. We also appreciate the vibrance in busier seasons though.
Down in the Lauterbrunnen Valley spring sets in, which makes for beautiful hikes.
Your choice of activities and accommodation is somewhat limited. Alpine hiking trails aren't accessible yet. The same goes for several of the mountains in the Jungfrau Region. Some restaurants and hotels in Mürren are closed too.
Mürren in June, July, August and September
From June, nearly all mountain transport in the Jungfrau Region is operational. Temperatures rise and more tourists visit the village, the busiest months being July and August.
July and August, and often September too, are perfect for outdoor alpine activities: hiking, mountain biking and climbing the via ferrata near Mürren for example.
Sometimes snow in the mountain sets in quite early in September.
Mürren in October
Temperatures drop, and the chances of snow on the peaks of the Jungfrau Region increase. You can still make beautiful hikes in the autumn-colored valley. Most mountain transportation operates until mid-October.
Mürren in winter: one of Switzerland's best snow resorts
Mürren is the highest town of the Jungfau Region. You'll have the best chances of snow in the village here, especially from late December to early March.
November and early December aren't the best time for a visit to Mürren. It's low season and mountain transportation in the Jungfrau Region is partially closed. Snowfall isn't likely yet.
March is a similar shoulder season. In normal winters, the snow season in Mürren continues until well in March, but that's no guarantee. So winter activities may or may not be possible.
Weather in Mürren 
Weather can change quickly
Mürren is right within the Swiss Alps. Weather can change quickly and dramatically here. So you'll always need to check weather forecasts shortly before starting any outdoor activity.
Temperatures in Mürren
Mürren is at high altitude, which means that frost and snow are likely in winter. Typical daytime temperatures in winter vary from 5°C to 0°C, with several degrees below zero during the nights.
Average summer temperatures range from 11°C to 15°C. But it can certainly get warmer than this. And on sunny, windless days these temperatures can feel very pleasant and summer-like.
Rain in Mürren
May, June, July and August are the rainiest months in Mürren.
This doesn't mean you can't have great summer weather. Warm, sunny spells in the Jungfrau Region are common too, and rain often falls during showers and thunderstorms in the (late) afternoon.
5-day weather forecast for Mürren
Weather reports are available to members only
Create a free account
Accommodation in Mürren 
Many hotels and rental chalets in Mürren offer rooms with mountain views. They're nearly all just a short walk away from either the cable car station or the train station.
Find more accommodation tips for the Jungfrau Region here.
Find hotels in the mountain village of Mürren. They're close to the train or cable car stations, and many have …
What is Mürren like?
A picture-perfect mountain village
Mürren is one of those picture-perfect villages in the Swiss Alps: there are mountains, forests and green meadows all around and there are no cars. Wengen, on the other side of the valley, offers a similar but not identical experience.
Outdoor activities directly from town
You'll find many hiking trails to and from Mürren. In winter, there are plenty of options for skiing, snowboarding and tobogganing.
Location and scenery
Mürren is perched on the edge of an 800 m high cliff, rising up from the Lauterbrunnen Valley in the Jungfrau Region. It's a spectacular location that keeps impressing us. Because of the cliff, this area is one of the most-used spots in the world for base-jumping.
Good views are guaranteed if the weather is cooperative. You can see the Eiger, Mönch, Breithorn, most of the Jungfrau, and many other mountains from here.
Well-geared to tourists
Like many popular villages, Mürren is pretty touristy, but not in a disturbing way to our taste. It is one of the best places to enjoy the Swiss Alps, away from traffic, shopping centers and other distractions. There are quite some hotels and restaurants.
There aren't many shops, but it's enough for all the basic needs: you'll find a supermarket here, as well as various sports shops.
Pros and cons of Mürren
Mürren's characteristics are an advantage to some, and a disadvantage to others:
Mürren is car-free, which is perfect for hikers, families and anyone seeking peace and quiet in the Alps.
The village is popular, so it's not necessarily the cheapest place to stay.
The location is somewhat isolated. Mürren's immediate surroundings are wonderful, but it takes a bit of time to explore the rest of the Jungfrau Region. You'll first have to take the cableway down to the valley, and start day trips from there.
Mürren is a small village. There are hotels and restaurants, but don't expect museums or other entertainment like nightlife.
Are you interested in other towns in the Jungfrau Region? Find a full overview in our Jungfrau Region guide.
Mürren FAQ
Where is Mürren in Switzerland?

Mürren is in the northern Swiss Alps. It's situated on a plateau on the western slopes of the Lauterbrunnen Valley. This is part of the Jungfrau Region, which in turn is part of the larger Bernese Oberland Region.

Mürren is at a nearly 3-hour journey from Zurich, and a 1 hour-trip from Interlaken.

Is Mürren worth visiting?

Yes, definitely pay Mürren a visit if you can. The location of this mountain village is stunning, and so are the views of the Eiger, Mönch, Jungfrau and other Bernese Alps.

It takes some time to reach the village, but the views are rewarding. If you value great vistas directly from your hotel room, you can even consider Mürren as a base town for a stay in the Jungfrau Region.

Can I drive to Mürren?

No. Mürren is entirely car-free and there are no roads to the villages. Car drivers need to park their car down in the valley: in the villages Lauterbrunnen or Stechelberg. From there, the journey continues by train or bus, and by cable car.

Mürren is small, so it's easy to get by on foot in the village.

Is Mürren open all year?

Yes, Mürren is open year-long and can be reached year-long. Some hotels and restaurants may close in low season (November to mid-December and mid-March to May for example), but not all.

Should I stay in Gimmelwald near Mürren?

Only base yourself in Gimmelwald if you're looking for a small, quiet location with few facilities, but beautiful views. Read our detailed opinion about Gimmelwald here.
Other websites of interest
Itineraries including Mürren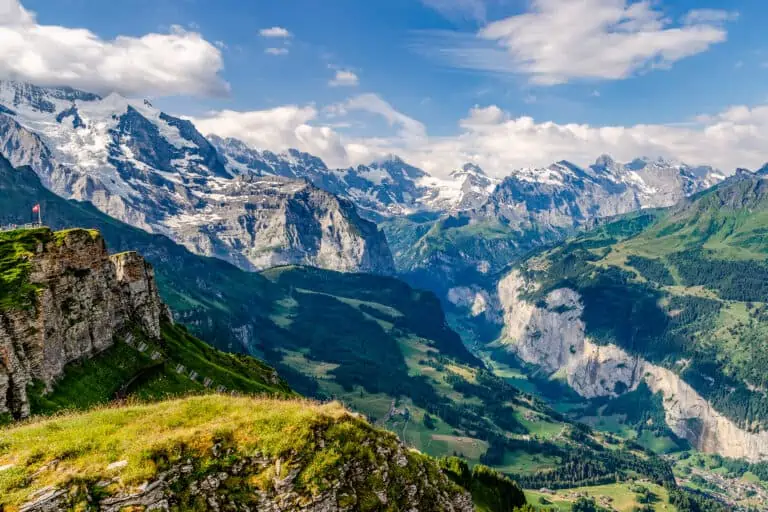 This extremely varied trip includes the famous Jungfrau, cogwheel train rides, cable cars, the Rhine Falls, Zurich and more: the …
Our blog articles about Mürren and surroundings 
Easy, popular, and beautiful trail to Mürren, on the western plateau above the Lauterbrunnen Valley.
Are the small Swiss tourist hotspots worth visiting? We share our take on Lauterbrunnen, the Aescher guesthouse, the Verzasca Valley …
More about the Jungfrau Region