What to see and do in Bern 
Bern activity finder
6 must-sees in Bern
We recommend these 6 highlights in the old town of Bern:
the Clock Tower or "Zytglogge" (www.bern.com)
the shopping streets full of arcades, which have been declared a UNESCO World Heritage site (www.unesco.org)
the Bear Park (www.tierpark-bern.ch)
the House of Parliament or "Bundeshaus" (www.parlament.ch)
the Münster Cathedral and its views over the river Aare (www.bernermuenster.ch)
the Dalmaziquai on the southern Aare banks, from which you have a gorgeous view of the old houses and the cathedral.
Vantage points: the Gurten mountain and Rose Garden
For nice views over the city and its surroundings, we recommend:
Sightseeing off the tourist trail
If you want to see more than just the main highlights of Bern, consider:
Day trips to other Swiss regions
If you want to travel in multiple directions, Bern is a good choice to base yourself. You can make day trips into:
Other larger cities such as Basel, Zurich and Lucerne can be reached in about an hour.
If you don't mind somewhat longer day trips, you could even visit Lake Geneva or the Valais.
Traveling to and in Bern, plus city map 
How to reach Bern
Bern can be reached by train and by car. We recommend not to travel by car: the center is busy with traffic and parking space is limited.
There are quick, direct train connections from various Swiss cities to Bern. Examples:
You can also quickly reach Bern from the small nearby airport. Travel details are available here.
The rail station
The main rail station is simply called 'Bern' and is situated in the heart of the city, at the edge of the historical town center.
The station offers a shopping center that is open 7 days a week, and many train services to towns all over Switzerland.
Getting around in Bern: by foot, bus and tram
The old town center is the main tourist attraction. It is compact and can easily be explored on foot from the rail station. 
There is a network of trams, buses and local trains (S-Bahnen) that allow for easy traveling all over town. A car is not needed to get around.
Free public transport for hotel and apartment guests
The Bern Ticket offers free traveling in the public transport zones 100 and 101, which is basically all of Bern. You will get a free Bern Ticket if you book a hotel, an apartment, a hostel, or any other accommodation in Bern.
After arrival in Bern, you can use your printed booking confirmation to travel from the rail station or airport to your accommodation for free. You will receive the Bern Ticket when you check-in.
Rail pass for a stay in Bern
Many of the Swiss rail passes include free traveling in Bern, plus benefits in a much larger area than provided by the Bern Ticket.
As Bern is located very centrally, we advise to make use of this and travel into several directions of the country. If you do so, a Swiss Travel Pass or Swiss Half Fare Card is mostly the best choice.
If you'll be in Bern between spring and fall, and if you plan to focus on the Bernese Oberland east of Bern, look into the Berner Oberland Pass.
Consult our rail pass comparison guide if you need help finding the right pass.
The city of Bern on a map
Maps are available to members only
Create a free account
When to visit Bern 
Bern is suitable for a one-day visit, or as a base town, all year.
Bern in spring, summer and fall
From spring to fall, the city and its green hilly surroundings look very attractive.
You can make day trips to many Swiss regions, including the Alps. So if it gets hot in the town in summer, you can cool down at higher altitudes.
Bern in winter
Bern is not in the Alps, so don't expect a snowy landscape in and around town. However, Bern is a nice winter city. You can make beautiful train journeys or visit other cities and their Christmas markets. 
Winter fun in Bern is possible. There's an ice rink in front of the Parliament Building. If there's enough snow, you can enjoy tobogganing from the slopes of the nearby mountain Gurten. Or make day trips to ski resorts.
Bern weather info and forecast 
Temperatures in Bern
Bern's location at about 500 m altitude means that it's usually slightly cooler than other larger cities such as Basel, Zurich and Geneva.
Still, it can get pretty warm in summer. Temperatures can range from 20°C to well over 25°C from June to September.
During winter, temperatures are typically above freezing point: about 4°C to 9°C.
Rain in Bern
Rain in Bern mostly occurs from spring to autumn. Winter months, such as January and February, are drier.
Snow does fall in town during winter, but it's not common. You can best travel to mountain villages further south for snow.
5-day weather forecast for Bern
Weather reports are available to members only
Create a free account
Where to spend the night in Bern 
There are lots of centrally located hotels in Bern, in the old town center and within walking distance of the rail station. Find all options and tips in our Bern hotel guide.
Find hotels in and around the old town center of Bern, and within walking distance from the rail station. A …
The pros and cons of Bern
These are reasons to visit Bern, or to use it as a base town for your day trips:
Bern is a pretty town. The historical city center is romantic.
There's a lot to do and see within a small area. You can visit parks, museums and shops on foot.
The mountains can be reached within an hour by train. So Bern is a good base if you want to combine a city trip with occasional day trips to the Alps.
Bern is located centrally. You can reach several cities and regions of Switzerland for your day trips. Examples are Neuchâtel, Fribourg, Basel, Zurich, Lucerne, and the Bernese Oberland.
These are reasons to choose another base town:
If you want to visit the Alps on a daily basis we advise picking a base town closer to the mountains such as Thun, Interlaken, Lucerne, or one of the villages in the Jungfrau Region.
If you prefer peace and quiet, a village can be a better choice than the vibrant town center of Bern.
Bern FAQ
Is Bern worth visiting?
Yes, it absolutely is. The historic town center with its arcades is even a UNESCO World Heritage site.
Further pros are Bern's location on the blue river Aare, the several parks, and the small-sized center that allows you to explore all shops, museums and restaurants on foot.
On clear days, you can see the Bernese Alps in the distance.
Where is Bern located?
Bern is situated on the relatively flat Swiss Plateau in the north of Switzerland. It is surrounded by hills and several forests. It's at a 1-hour train ride from Zurich, Basel and Lucerne.
Is Bern in or near the Alps?
Bern is not in the Swiss mountains. But on clear days, you can see the Bernese Alps from the city.
Traveling from the city to the mountains (for example those near Lucerne or Interlaken) takes 1 to 2 hours by train.
How many days to spend in Bern?
One day in Bern is enough to quickly see all of its highlights, such as the Clock Tower, the Parliament Building, and the Münster Cathedral.
Allow 2 to 3 days if you really want to get to know the town. You can even spend your entire holiday in Bern, as it's located centrally and allows you to explore several Swiss regions during your day trips.
What does the name "Bern" mean?
The name "Bern" could be derived from the German word "Bären", which means "bears". It refers to a local legend about the founder of the city, who named it after the first animal he encountered. But the exact etymology is unsure.
Bears are still the symbol on the flag of the canton Bern. And of course, there's the Bear Park in the city.
Other websites of interest
Itineraries that include Bern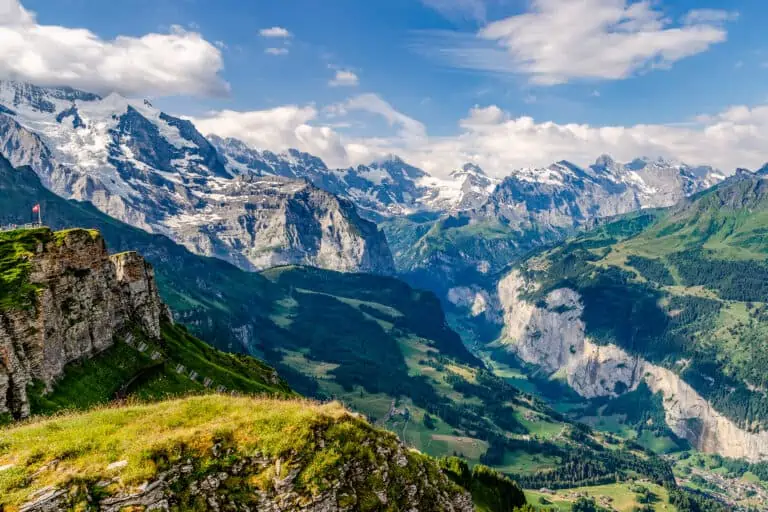 This extremely varied trip includes the famous Jungfrau, cogwheel train rides, cable cars, the Rhine Falls, Zurich and more: the …
More about the Bern region